France is composed of 27 regions with 21 located in metropolitan France. These regions are composed of several departments. The Provence-Alpes-Cote d'Azur is located in the Southeast and is composed of Bouches-du-Rhône, Alpes de Haute Provence, Hautes Alpes, Alpes maritimes, Var and Vaucluse.
Franci Discendum is located between Vaucluse and Haute Provence.
Franci Discendum organisation is situated in the Luberon region, in Provence, in the South of France. Our school is located in Viens or in Caseneuve or in Saignon.
« Viens » to  learn French in Provence!
(In French, « to come » is « venir ». When someone says « viens », it means: come to visit me or come with me to the market for example… )
Surrounded by magnificent countryside and perched on a rocky outcrop for more than a millenium, Viens is an ancient village with a medieval atmosphere and a great character. You will admire the residences from the 13th century and charming old houses and enjoy the  Renaissance chateau, restored in the 14th century. Viens is situated near the huge fields of lavender, near the amazing Colorado Provencal cliffs, in the heart of the « authentic » charming Provence…

During summer, Viens offers a Art festival with dance, theater, tales performance… A great time to meet and to speak (and to improve)  French with local people and with artists.
     Caseneuve,Viens, St Martin de Castillon and Saignon are small pretty villages near the city of Apt and the city of Manosque. These villages perched  on a hillside ledge provide a superb view over the Luberon mountain.
These rustic and authentic  old villages are l

ocated

between the foothills of the Luberon,  those of the Montagne de Lure and the Monts de Vaucluse and  at the border with the Alpes de Haute-Provence.
Learn and study French in these typical Provencal village is ideal because you will be in total immersion  and because you will feel the relaxed way of life of Provence.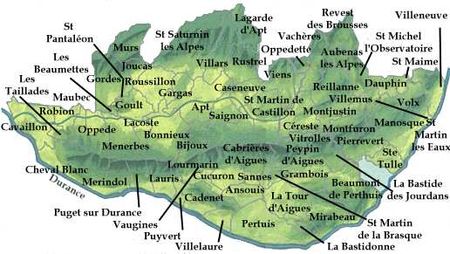 Not far from Mont Ventoux, Aix-en-Provence, Avignon, Vaison-la-Romaine or Marseille, midway between the Alps and the Mediterranean,  the wide sweep of the Luberon is in some ways a microcosm of Provence. A Regional Natural Park since 1977, the Luberon National Park has made the protection of its landscapes and cultural heritage is primary objective.
Through the diverse landscape of the Luberon, we understand more about this marvellous region. They retained a strong regional identity, with their subtle mix of light and shadow, mountain and plain, vegetable and mineral, of humanity and « wild ».
                    Provence  create a feeling of fullness and well-being…